A Magictation by Mikeal Basile
"Magictating" is defined as getting into the zone with your Magic the Gathering collection–thinking, planning, organizing, reminiscing about past games, and imagining future games. It is a combination of hard thinking about the game and calm meditation, reveling in the joy it brings you.
I don't know if you've noticed the furor that has developed over the Secret Lair X The Walking Dead, but it is unwarranted. I feel that this outcry is both misguided and absurd. As these cards will be legal in my format of choice—Commander—it is my duty to provide people with some perspective and guidance. The arguments being made do not warrant this sort of outrage. The new Secret Lair drop, for those of you that are unaware, will include mechanically unique cards, and the names and artwork are The Walking Dead characters. I do have other issues with Secret Lair in general, but I will address those last. For now, let us dive into why people should not view this as something catastrophically bad.
Commander players need to calm down, stop being upset, and see this latest Secret Lair Drop as the small limited set that it is. There are plenty of other things going on in the Magicverse, and focusing your energies on The Walking Dead being featured on black bordered Magic: the Gathering cards is definitely not something to spend your energy on. The issue people seem to have with this Secret Lair Drop is that it is a limited edition (like all of these things). People are concerned that Wizards will be unable to reprint these cards again, because they will only have copyright access for a limited time. If this upsets you, then please, relax. Wizards can simply do a functional reprint of any of these cards at any given time. Furthermore, they may even be able to do the Ikoria subtitle Godzilla treatment. Sure, the names and artwork might not be the same, but the functionality of the card will be identical. It could cause issues by giving people multiples of a single card, once they are functionally reprinted, but we are far away from that scenario. I'm not convinced that these are overpowered cards in Commander, and therefore the call for a ban because something is too collectible is just absurd.
Magic: The Gathering is the original collectible trading card game (CCG). The first "C" means that the cards should have value. These are not merely game pieces, and to view them as such is a disservice to the game itself. It destroys the integrity and mystique of the game. I have seen people referencing Nalathni Dragon as an example of what happens when Wizards makes cards that are too rare. I remember the Nalathni dragon incident, and even as young kid who could never afford one, I thought it was awesome. The existence of a card that was beyond my reach made me feel like this was a game that had depth and value. Wizards had given them out at Dragon Con, and until it showed up in a magazine promo a few months later, it was the hottest card around. Everyone wanted one, and not everyone could get one. It is OK not to be able to afford every card in the game. This is even more true when playing at a recreational and non-tournament level—Commander. Nalathni Dragon wasn't even overpowered at the time, but it was really rare. Honestly, I get the comparison between the two, as these Walking Dead cards do have the potential to be like Nalathni Dragon. Yet, Nalathni Dragon was a great talking point and a collector's target. It is not a bad thing for a collectible game to have rare items. By definition the game needs items that are "chase" pieces.
Furthermore, The Walking Dead cards are not overpowered for Commander purposes, and they will most likely become interesting odd-ball cards that show up at the kitchen table from time to time. Even if they end up being expensive, that will simply be a result of supply and demand. I'm leaning toward them becoming odd-balls and forgotten after a year or so. Sure, it's hard to predict, but ultimately the way it shakes out is all part of having a collectible game. If these were grossly over-powered this would be a different conversation, but these cards are not Commander pushed. They are fun collectibles, and should be viewed as such.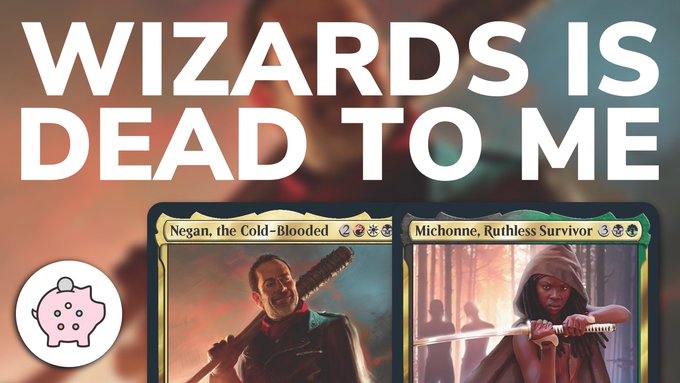 People are calling for these cards to be banned from the Commander format. Seriously? I was shocked when I read it. I was perturbed when I found strings of people piling on about this. I was disturbed to find influencers agreeing with this. There are reasons not to want to support Secret Lairs, but this rationale falls short of anything rational. Rather than calling for a ban or griping about the potential limited nature, or more accurately the highly collectible nature of these cards, we should be voting with our wallets instead. If you do not support these cards, then do not buy them. Just because you think something might price you out, calling for a ban is not warranted. I think the Magic community forgets that this is one of the best parts of being in a free market economy. We get to vote every single day. We vote on what products we support by buying those products. When we skip sets, releases, or other events, we are letting Wizards and our local gaming shops know that we do not support a product. When you want something banned, then it should be for play, and not monetary reasons. This is especially true when dealing with a casual format, or as many like to say—The Casual Format aka Commander. So we may find that this product does not sell well, and when supply is low and demand is high the price goes up. Or, perhaps they tank completely as no one wants them. I'm inclined to think that they will be fun to play with, but not any more fun than the latest Commander cards from any given set.
If you are a collector, then you are probably going to pick up one of these. If you are a player, then you are deciding how fun these might be to play with, and if they are worth the investment. If you are a Walking Dead fan, then I'm sure you will be looking to pick these up. I am not a fan of The Walking Dead, but that is really because I find the whole zombie trope (great unwashed and uneducated masses yearning to devour the intellect of others only to spread more ignorance) a bit tired. Otherwise, I might pick this up just to try playing with some of the mechanically unique cards. I guess it depends on price point and how much you are willing to spend on five new cards. As with any product, you evaluate what you want and what you get and base your decisions on wants vs. needs.
The gripe about these cards being legal is simply not warranted. These are not even close to as powerful as the new Omnath or really any of the new powerful Mythics from Zendikar Rising. Wizards has been printing broken cards left and right in standard sets! If you have $60 to spend on Magic, then you would probably be better served buying some sweet new singles from your local gaming store. Have you seriously looked at Zendikar Rising's cards? They are very powerful, and super splashy for Commander. The Walking Dead cards are really just a flash in the pan. Since it is a Secret Lair, people are letting their "fear of missing out" overrule logical reasoning. Commander should never be viewe as a format with "must-have" or "must-include" cards. That attitude and approach is in direct opposition to the very spirit of this format. The restrictions Commander requires are there to help you be a more creative and more fun deck builder. We should not be trying to homogenize Commander decks into finely tuned archetypes. This Secret Lair Drop is a neat little experiment, and if the loudest among us have their way, then we may not see other interesting non-Magicverse cards showing up in Magic: the Gathering. As a guy that loves Magic among other geeky endeavors, I hope this is not the case. I would love to see TMNT cards, but if Wizards listens to this ridiculousness that may never happen.
Some people have been calling for these to be printed in the Ikoria fashion. Magic card names subtitled beneath the Walking Dead names. That could have very well worked. I assume they did not do that, because they are experimenting with other IPs (intellectual properties). I find this experiment to be interesting. I am interested in not only the collectability of these types of cards, but how they might add a different feel to someone's deck. It allows you to lean into a particular build or flesh out your own story that may not necessarily be Magicverse centric. I think that is a fine thing, but I may be part of a quieter crowd. I would not mind if these were printed as some sort of Future Shifted concept cards, and that someday they may be reprinted in a fitting set. That would be fine. However, the way it is being done currently is just fine.
The majority of the outrage seems to be focused on the potential for limited supply, which I have discussed, and the idea that selling these is somehow predatory. That word choice is simply absurd. The oversimplification and the name-calling needs to stop. This is more a perspective issue than a supply and demand issue. I fear that far too many Magic players, or at least far too many vocal magic players, believe that Magic is simply a game with game pieces. I am going to be unpopular perhaps, but that's something I'm used to since I played Magic: the Gathering in the '90s. Magic cards are collectible trading cards. It is the original CCG. Collectible card games, by definition, need to have some cards worth more than others. I know we should all know this because every card is printed with a set symbol and that set symbol has been color coded for a very long time. The color coding of the set symbols corresponds with the rarities. While it doesn't always shake out to be exactly correlative to the prices, the rare/mythic cards tend to be more expensive. When we extend this thinking to foils and alternative printings, then we can see supply and demand determine the prices of cards. This is why when a mythic rare is desirable in every format in Magic, the price of that card tends to skyrocket. Will the price of these The Walking Dead cards skyrocket? Well if I could predict that, then I would not waste my time writing about it, and would instead make millions by buying them all. Seriously, though, it is totally fine to not own every single item that Wizard's makes. There are over 20,000 unique cards in Magic, and this is not Pokemon. You do not need to catch them all, and you can play without owning every card. Commander is a format that thrives best when people dig through their collections and utilize cards that have been collecting dust for years.
Is there a legitimate reason for Commander players to be upset about The Walking Dead Secret Lair drop? Yes, but not what you might think. The real problem is that these cards are sold directly by Wizards. Cutting out the middle man might be a good business practice for business owners. However, with Magic you are cutting out the very people that enable your buying base to help exist and play the game. The issue with Secret Lair stems from undercutting your local game store. These products are not a way for your LGS to make money, but at least the big box stores are left out too. I personally wish that I could order these Secret Lairs from my local game store. I wish my LGS was the go-between for these products, or that they had access to them at a discount they could then pass on to me. However, that is not the case. If you believe in supporting your local game store at all costs, then you have already made your decision about The Walking Dead cards: hard pass. You will continue to pass on every single Secret Lair drop, because you cannot order from your LGS. I respect that decision. I admire it.
I wish you the best in your own decision making process over the next several days. However, I urge you to seriously consider why cards should be banned, and others unbanned. The rules committee for Commander made the right choice. They did not ban cards that are not problematic for play. They did not cave to cancel culture and its irrational cries. Use the Commander Rules Committee's rulings as guidelines for playing with new people. You can abide by the rules with your regulars or choose not to. That's the beauty of House-Rules. Heck, I play a deck with Chaos Orb, because my hour-rules say it is legal. However, if I come to your house, and you tell me my Forcefield is banned, because they are too hard to get, then I am taking my ball and going home. Banning cards because they are expensive is a horrifically slippery slope. I do not support that at all. So, remember to vote with your wallet, make decisions rationally, and play Commander to crush your enemies—I mean friends.