A Magictation by Mikeal Basile
"Magictating" is defined as getting into the zone with your Magic the Gathering collection–thinking, planning, organizing, reminiscing about past games, and imagining future games. It is a combination of hard thinking about the game and calm meditation, reveling in the joy it brings you.
As Zendikar Rising is set to release in a few weeks, and it explores lands, I am going to explore the best lands for my fellow Commander players. Lands are the resources that provide the drama in Magic. So many games hinge on mana–how much you have and what colors you can access. As a Magic player, you should invest in the best mana base for your deck. When you are a Commander player, you should prioritize lands above almost everything else. Your format does not rotate, and so your rare lands will always be playable. Nothing is more fun than casting your amazing and incredible Commander spells. However, you cannot cast incredible spells like Last Stand with a shoddy mana base. You cannot cast anything consistently without a well-tuned mana base. In short, you must buy the best lands for your budget.
Which lands are the best?
Basic lands are the best lands. They always come into play untapped. There is very little hate printed toward them, and they are practically free. If you want the best lands for multi-color Magic decks, well, now we have something to explore.
The original dual lands from Magic are the best. They check all three boxes–basic land types, come into play untapped, and incredibly expensive to purchase. Oops, wait, they are not budget friendly. I would still contest that, as a Commander player, it is still worth picking up a dual in your favorite color combination. It will never disappoint you, and it will always bring you closer to victory.
For the budget conscious, there is a vastly more affordable option in the Ravnica shock lands. These actually check all three boxes: basic lands types, can come into play untapped, and mostly budget friendly. The Ravnica shock lands require you to pay 2 life to have them come into play untapped. Commander does start with 40 life, so this is not too large of a drawback. Currently, there is nothing that comes in this close to the original dual lands. Plus, you can pick up all 10 for around $100!
The Amonkhet lag lands or bicycling lands are just OK (bi=two, cycling because they cycle, sigh). These lands come into play tapped, so that is not good, but they do have basic land types, and they are super affordable. They are inferior, so that is why they are cheap. I would recommend you pick up the set, because they have the basic land types, and they are super cheap.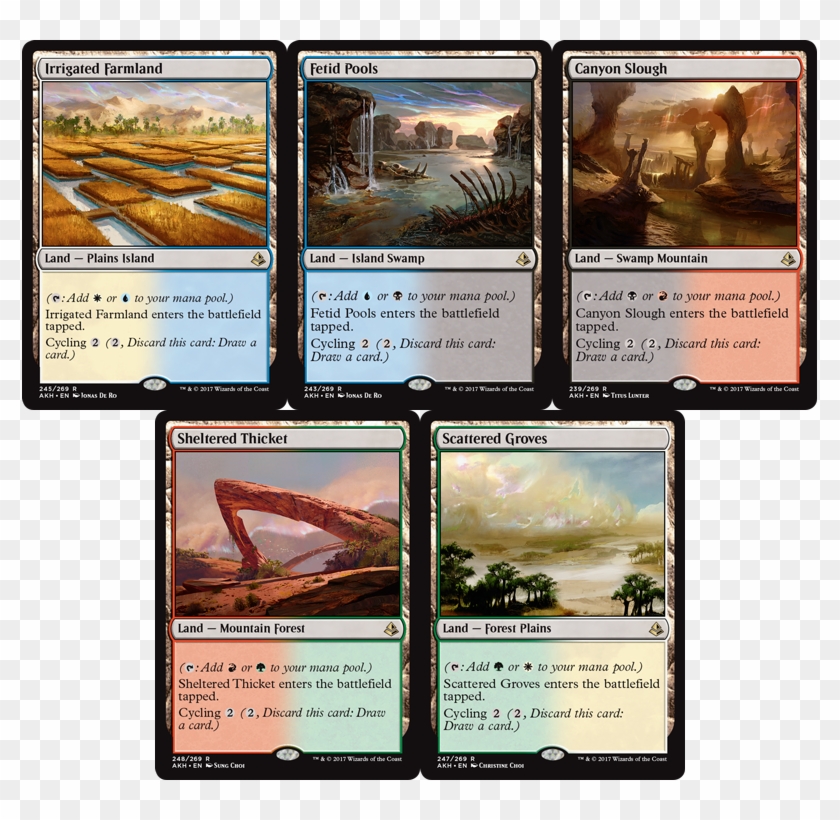 The Ikoria Triomes are also guilty of the same sins as the Amonkhet lands, but at least they provide three different colors. It is hard to find a land that provides three different colors that does not come into play tapped. These lands are, as of this moment, perhaps the best budget land on the market.
Why do basic land types matter on non-basic lands?
Fetch lands are pricey, but they are really good with duals. Fetch lands make your mana base so much smoother. You have more choices for lands to fetch, and dual lands with basic land types on them are amazing to have in a deck with fetch lands. If dual lands did not exist, then fetch lands would be inexpensive. Once you own a few dual lands, of any type, you need to prioritize buying fetch lands. If you are budget conscious, then might I suggest picking up the vastly more affordable, though slightly slower, Mirage fetchlands? They work best with the original duals and the shock lands as you can have them come into play untapped. However, if you are desperate for mana fixing, then perhaps you could fetch a tapped bicycling land or even a Triome. If you are in the correct colors, then you can even take advantage of Krosan Verge as a sort of super fetch land.
Are there more budget lands that I can't fetch?
There are many options for lands that do not contain basic land types. The other two boxes we need to check would be coming into play untapped, and being affordable.
The Battlebond lands are also good at what they do, but they are a bit pricier. If you can afford them, then you should probably pick them up. They are actually amazing in multiplayer and feel incredibly close to playing an actual dual land. They are not fetchable, but if you do not own fetches, then these do a good impersonation of a dual land for most Commander games.
Magic also printed some interesting check lands. These lands come into play untapped if you have a basic land type they produce already in play. These are good, cheap, and usually enter untapped. What are you waiting for? Put them in your decks.
If you cannot afford duals or expensive fetch lands, then I suggest you pick up a few of Clubber Lang's favorite lands: PAIN LANDS. The pain land cycle, which began in Ice Age and finished in Apocalypse, are excellent mana sources. You can tap them for colorless mana when you do not need color, and then allow you to take a point of damage to get the color you need. These tend to shine in decks that have plenty of basics. You use them for color when necessary, and then keep them as colorless filler later on.
The filter lands from Shadowmoor help to smooth out mana bases too, but also require that you have colored mana to activate them. The Odyssey filter lands do not require colored mana, but lack the mana options provided by their Shadowmoor counterparts. These are fairly equal in terms of playability, and really depend on your deck's casting costs. However, they are both excellent budget options.

The Ravnica bounce lands are where you start to dip into the comes-into-play tapped variety of budget dual lands. They are deceptively good, as they allow you to get an extra land drop by returning your land to your hand. They also tap for two mana each, so they have a significant pay-off for their downside. There is no reason you should not own at least one of each (I might own thirty of each).
Man lands from Worldwake offer another great payoff for their tapped downside. These lands smooth things out and offer a body when you might need one. These have fluctuated in price over the years, but they seem relatively cheap now, so pick them up and be happy about it. While you're at it, check out the completion of the cycle that was printed in Oath of the Gatewatch.
The temples are super cheap, come into play tapped, but give you a quick scry. These are fine lands. They are cheap monetarily, and they give you a little reward for the pain of having them come into play tapped. I do not love these in Commander, but they are serviceable and budget friendly.
The common gain lands from Khans block offer the best and cheapest option. They come into play tapped, gain you a life, and then function just like a regular dual. They are not fetchable, but they are cheap. I would caution you against running too many lands that come into play tapped, so just keep that in mind (less than 25% is ideal).
Wait, isn't there anything cheaper?
Do you want something for nothing? Well, then I guess you should check out a few other odd ball lands. Tempest and Champions of Kamigawa have a series of lands that can tap for colorless or when they are tapped for colored mana do not untap the following turn. These are actually an improvement over the Ice Age lands that did the same thing with depletion counters, but did not have the option of tapping for colorless. I ran Land Cap in my blue white deck, and it was the best I could get until Homelands gave me tri-lands. It was a rough time for mana options outside the original duals.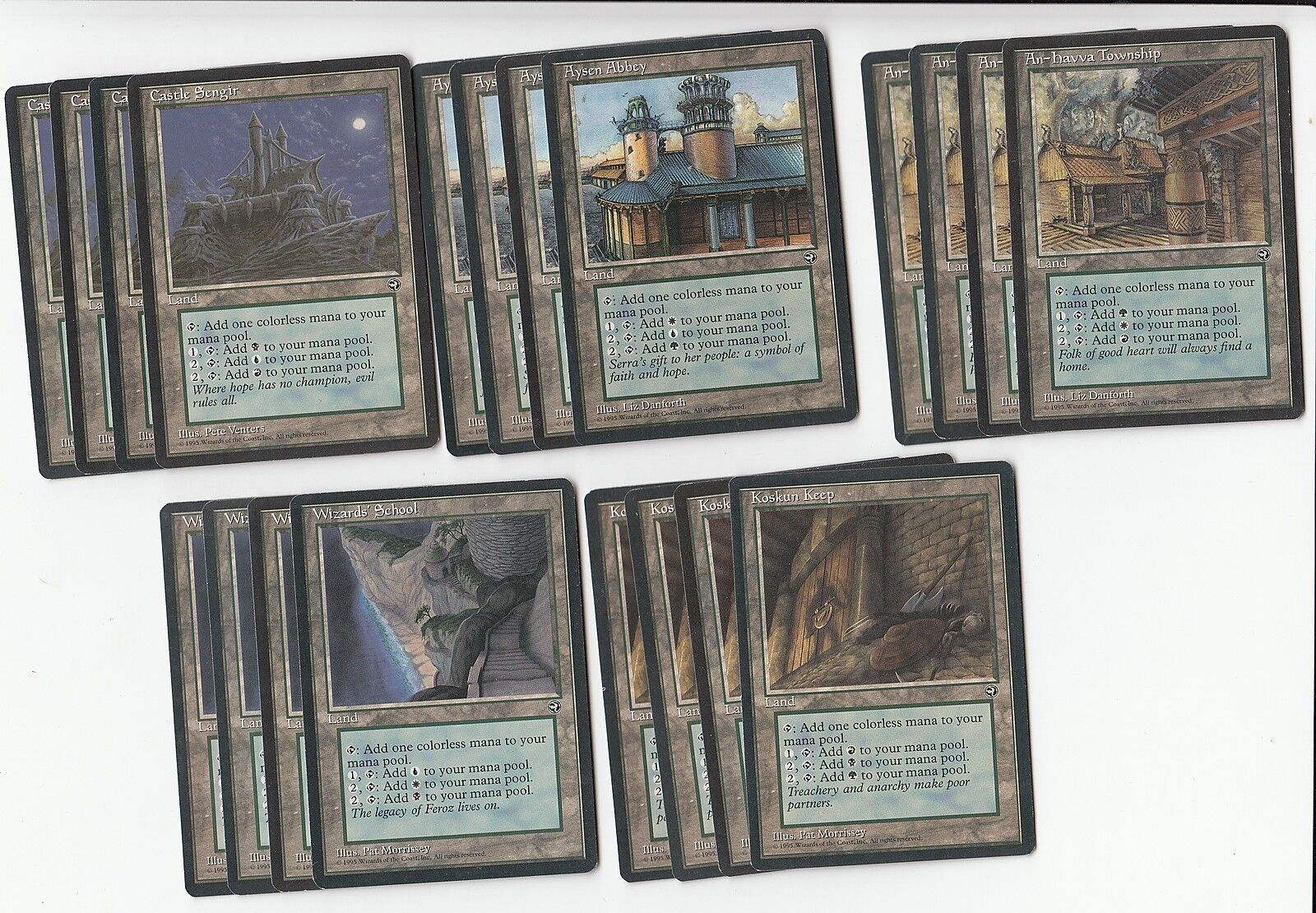 The next best option to using duals is using fetch lands with basic lands. This does not mean you have to have Prismatic Vista (though it is the best at doing this). There is also Fabled Passage. If you want better budget options, then I highly suggest Terramorphic Expanse and Evolving Wilds. Beyond that obvious pair lurks the often forgotten Panoramas from Shards of Alara. These fetches allow you searchable access to three different land types. In addition, you might consider Terminal Moraine and Warped Landscape for fetching basics.
What about these new dual lands they spoiled?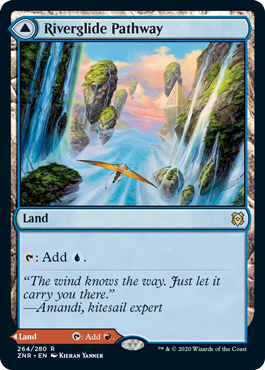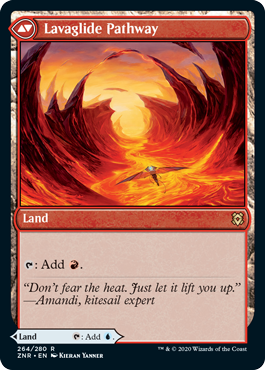 I did not see any dual lands. Oh, those flip lands? Those are not dual lands. You cannot search for them, and they can only tap for the mana on the side you play it. At least they come into play untapped. I am a little surprised they are rares, but perhaps I am undervaluing them? I suspect they were made rares for drafting purposes, and not because they really stand up in any sort of modern rare land comparison. They really will function like a fetchland, but will lack the time-consuming searching and shuffling process. You will have to choose when you play it what type of mana you want from it. There are ways to reset the lands and either blink them or replay them after bouncing them with a Golgari Rot Farm, but they will usually just stay how they are played. I love that they come into play untapped, and that they allow you access the color you most need, at the moment you play it. I would play these over just about every other land that comes into play tapped. However, if I am running a deck with fetchlands, then these are inferior to fetchable options. These will usually provide an easy upgrade to a basic land you planned on including. Overall, these are probably worth picking up, but I cannot see paying overly much for them.
How do I prioritize what lands to buy?
I can tell you that you should decide which deck is your favorite, and start getting the best lands for that deck. Starting with a deck you already enjoy, and making it able to consistently cast all of its spells on-curve, is truly blissful. I love being able to cast my favorite spells the turn I draw them. It is awful when you need just one more color. Then, you draw a land, but you have to wait another turn, because your land comes into play tapped. Aargh! It only gets worse when someone casts Windfall while you are waiting (I speak from multiple experiences). Having a few lands that come into play tapped is fine, but make certain you are getting a good deal for what you are sacrificing.
Final Stand on Lands
There are other lands that I did not discuss, but I am out of time and space today. I am certain more Zendikar Rising spoilers will come, and with them more lands. I will take this opportunity to explain a few more ideas about which lands to play and which to avoid. Lands are often neglected by players. Decks are built with spells, and then we just find lands to toss in. While the deck does determine the lands we choose, the lands determine how well the deck plays. If you have an amazing five color deck, but your mana base is off, then you are not going to be playing much of anything. Do not suffer from color screw. Get yourself the lands you deserve, and make your decks the finely tuned machines they deserve to be. Crush your opponents, and make it all possible with mana that never lets you down. 
If you haven't already done so, then please consider subscribing to my blog. It delivers my articles straight to your inbox for easy reading, and it helps me stay motivated to bring you all the best content I can. It is a free way to help support me and grow our Magitating community. Thank you so much, and feel free to leave any comments or suggestions below!